"Her mathematical passion is only equalled by her knowledge and her clever demonstrations" - Cheltenham Science Festival 2015 brochure
"Obviously a gifted presenter. Wonderful explanation and inspired both of the children (12 and 14) to investigate mathematics further!" - audience feedback, Cambridge Science Festival
"Dr Katie Steckles is not just an amazing mathematician but has proved to be a great speaker who holds the audience extremely focused." - audience feedback, Cambridge Science Festival
"Mind Blown." - Year 10 student, Bristol
"Like Ghostbusters, but for maths" - BBC Radio Manchester production assistant
"Brian Cox is the Katie Steckles of physics" - Lemn Sissay MBE
"I really like the maths lady, I want to be a mathematician" - Year 7 student, London
Katie Steckles is a mathematician based in Manchester, who gives talks and workshops and writes about mathematics. She finished her PhD in 2011, and since then has talked about maths in schools, at science festivals, on BBC radio and TV, at music festivals, as part of theatre shows and on the internet. She lectures part-time in mathematics at Sheffield Hallam University, in the Institute of Education.
If you need more information, a photo of Katie for publicity, or to enquire about a booking, please use the contact details above.
Current projects include: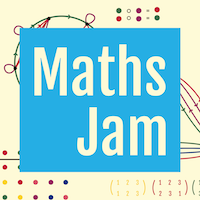 Katie is the organiser of MathsJam, a monthly pub night for people who want to share maths toys and games, puzzles and other interesting mathsy things. Katie runs the Manchester meetings, and coordinates all the organisers of over 60 MathsJams worldwide, and helps to maintain the MathsJam website.
Katie blogs as part of the team at The Aperiodical, an online maths magazine. One of the site's three editors, Katie posts news and opinion pieces, as well as curating content and helping to run the Carnival of Mathematics.
Katie lectures in mathematics at Sheffield Hallam University, teaching second and third year modules in the Institute of Education, on complex numbers and functions, coding theory and cryptography and dynamical systems and fractals. She has also previously taught in the mathematics department, on topics including group theory and linear algebra. Katie also contributed to SHU Maths' outreach programme, and is part of their Recreational Mathematics Research Cluster.
Katie appears in a lot of YouTube videos, including several on the YouTube channel Numberphile, talking about her favourite bits of maths. She has also appeared in one of James Grime's videos for the MathsWorldUK YouTube account. Katie's own YouTube channel, which she updates when she can, includes one on gift wrapping which has had over half a million views.
---
Previous Projects
In 2020, Katie spoke at TEDx Manchester, hosted the 24 Hour Maths Magic Show on her YouTube channel and delivered a variety of online talks and workshops.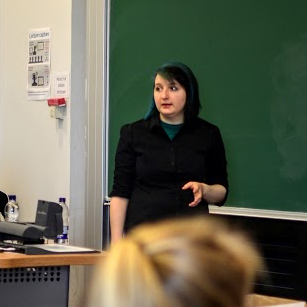 Katie has delivered talks and workshops in schools for Think Maths with Matt Parker, engaging students with off-curriculum mathematics. Working with Matt, Katie ran the Domino Computer project at Manchester Science Festival in 2012, the MegaMenger international fractal construction project in 2014, and the Mirror Pillar anamorphic art project in 2018.
In 2016, Katie was awarded the Joshua Phillips Award for Innovation in Science Engagement, was the official Science Communicator in Residence for the 2016 Manchester Science Festival, and ran the Manchester MegaPixel project as part of the festival. Press release (PDF)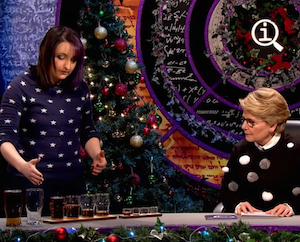 Katie appeared on the 2018 Christmas Special episode of QI, to explain a mathematical concept through the medium of beer. She has also appeared several times on BBC radio, including talking to the BBC World Service about topical maths news, guest spots for BBC Radio Manchester talking about maths puzzles, and as part of a Naked Scientists programme about the Millenium Maths Problems for BBC Radio 5 Live Science, in July 2015. She has also appeared as a guest expert in two episodes of Channel 4's SuperShoppers, on a BBC Live Lesson in January 2018, and on the Discovery Science Channel's 'Mythical Beasts' in the US.
In 2014, Katie worked with Dr Peter Rowlett and the Further Maths Support Programme (now the AMSP) to produce a series of podcasts, called Taking Maths Further. Each episode features an interview with someone who uses maths in their work, plus some discussion on the mathematics, and a puzzle.
Katie has written two books for a US children's publisher, The Math of a Milkshake and The Biology of Bananas. They aren't yet published in the UK.
---
Other Projects
Mathematics Masterclass speaker for the Royal Institution - workshops ranging from primary age up to Sixth Form, lectures in the Ri's Faraday Lecture theatre, and sessions as part of their summer programme.
Speaking at Robin Ince's Nine Lessons and Carols for Curious People events, Festival of the Spoken Nerd and An Evening of Unnecessary Detail, QED Con and Skeptics in the Pub events around the UK.
Proofreading, question and puzzle writing for books, mathematical competitions and events, including So Awkward Scrapbook (CBBC TV series annual) and Tim Peake's The Astronaut Selection Test Book; programme puzzles for events at the British Library, and questions for the UK edition of the Who Wants To Be A Mathematician? competition.
Two-week 'Mathematician in Residence' placement in the Stephen Lawrence Gallery, University of Greenwich in May 2015
Volunteer with Manchester Girl Geeks, managing and organising events to encourage and empower women in STEM.
Part of the Maths Busking project, delivering performance and training.
Mathematical theatre projects, including the19thstep's production of Everything & Nothing (later called Amelia and the Mapmaker), and Geddes Loom's Phi-based show Prelude to a Number.
Education:
Pure Mathematics MMath (undergraduate Masters), UMIST
PhD Mathematics, University of Manchester (completed 2011)